---
You only have to look at one of Linda's publications to understand the detailed type of work she does. The Loyalist Gazette of 2002, in announcing a newly available book, had this to say: "Linda has a reputation as a careful researcher, so new publications from her are a treat."

Many of Linda's books, such as her series on the first Heir and Devisee Commission, cover the entire province of Upper Canada. These records had previously been unavailable to researchers, due to the fact that the pertinent information is scattered over several microfilms, and parts of it are not properly identified. Linda has collaborated on these books with her husband Gary, and the result speaks for itself. These records are valuable historical and genealogical documents, which will provide information to researchers not only today, but in the future.

Her series of books on the Assize Court records of Upper Canada, once again, presents information previously unpublished. Ontario's legal history is a fascinating subject, and these books not only provide a transcription of those records, but also contain relevant information gleaned from many secondary sources.
The Hard Road Ahead, the Story of the Addington Colonization Road represents a change in pace. Once again, information was pulled from numerous sources, and, when put together, presents a comprehensive portrayal of the conditions and hardships that the surveyors, road builders and settlers endured along the road, which wound its way through parts of Lennox & Addington, Frontenac and Renfrew Counties. For a taste of what you will find in this book, visit the website of the Association of Ontario Land Surveyors, and look in their fall, 2017 issue for Linda's article.
(Link:http://publications.aols.org/OPS-Magazine/2017Fall/index.html,
requires Adobe Flash)
---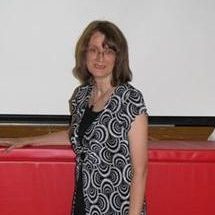 ---
Linda is available to do custom research, particularly
in the records of the Quinte area of Ontario.
---
---
---
Linda has presented on genealogy research techniques and other related topics.
---